I feel recovered enough to write a proper race report. My finish time was 6:18:00 which is read 'six hours, eighteen minutes.' My past self is working hard on a time machine so it can slap me for saying things like that.
Since January I've been working pretty hard training for a few challenges. This was by far the toughest on the calendar. A 1.2 mile swim, 56 mile mike ride and a 13.1 mile run, in August (hot!).
My race attitude aligns with Rich: don't go faster than you can while thanking every volunteer.
Swim:
I wasn't nervous at all about the swim. Rich and I would breeze though mile swim workouts and I didn't do very many (read none) open water swim workouts before this. About halfway through the swim Flipper came up to me and said I was a disgrace to all swimming animals. I was a bit off course, not being efficient and feeling a bit woozy. At the mile mark I managed to donated my breakfast to the fish. A note to all those reading, puking while swimming sucks. You swallow a bunch of water which makes it hard to calm down.
At this time a life guard in a kayak decided I was their best shot at a rescue 911 badge for saving a drowning person. They followed me as I went even more off course, eventually finishing. I walked up the edge of the beach, really hoping I didn't loose my stomach again. I predicted my time to be about 35 minutes, instead it was 57. Not a solid start for the day.
Bike: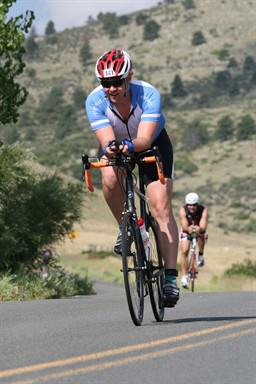 Of the three I like biking the best. The first ten minutes were rough. I took my time and didn't push it. As soon as we merged onto 36 I felt a swell of familiarity, and picked up the pace. At mile 15 I was feeling fantastic, and was passing 10-15 people a mile. At mile 18 I was passed by Traci Brown, who I have taken a cycling class with. A friend of Ingrid Alongi, Traci had really showed me a few things about pedal strokes and focus. As soon as I saw her I really wanted to pass her back. So after yelling 'get some!' a few times at her, I put together some inspired strokes and passed her and a few others. Over the next 30 miles we tried to drop each other, passing each other every six or seven minutes.
Really quite fun passing a friend of yours and having them say something to you.
Run:
The course had heated up and I clearly spent too much of the bank on the bike (but it was so fun passing 250 people). I was passed back by 250 people in the first few miles it seemed. I ended up joining with someone named Chris that had a similar pace. We walked up the hills, and ran a 10 / m pace for the rest of it. The aid stations were great (read: lifesavers) and a bit of flat coke with four miles to go made me snap out of the conservative pace. The last two miles three things happened:
1) I was stung by a bee.
2) I got the upbeat parts of "Joy" by The Autumn Film stuck in my head

3) I started running at a 7:10 / m pace.
I passed 50 people in the last two miles and came in with a strong finish.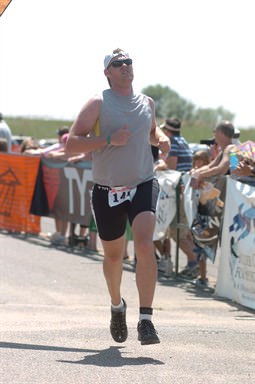 A ton of lessons learned from this experience.
Next challenge: Super Longs Peak (human powered summit from Boulder).