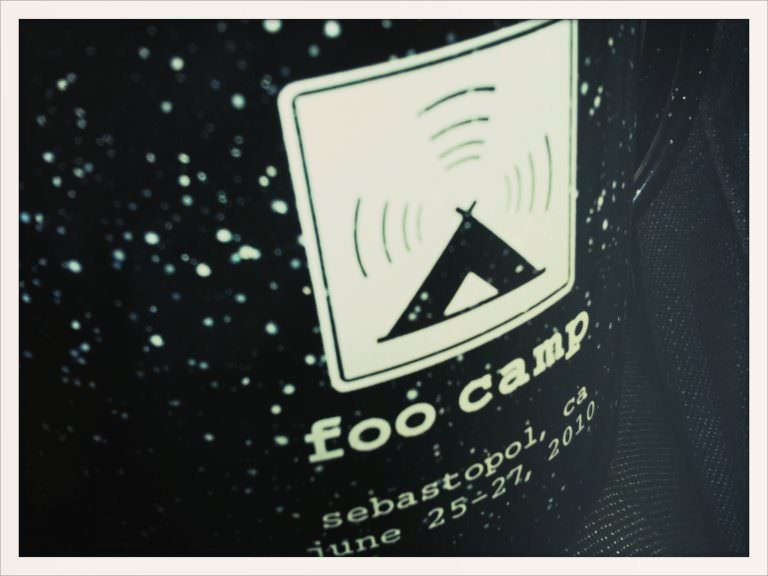 FOO Camp, an 'unconference' yearly held in Sebastopol, California.
What is FOO?  Friends Of O'Reilly.  Started in 2003 it seems to have been a really good excuse to get all the smart people that work with or in near industries of O'Reilly together for a weekend, and literally camp out.  The time between Friday and Sunday was 100% up to the community.  It sounds like an unconverence or a 'camp (bar, gov, science, etc) because it started the whole movement.
It is invite only, and when I went to my first barcamp (the one that really introduced me to tech) I was told about the amazing gathering.  Before I went, I thought it was, well, a bit snobby.  All these tech inner circle folks gathering to talk about how amazing their lives are, I thought.  I found out last year I was wrong.  It is exclusive because a) there are only so many rooms at their office space b) it is free and they buy the food so the costs would be outrageous and c) they get to try to pick the best mix of people to attend to create the best experience.
Last year was by far the best conference I had ever been to.  Eyes wide open, every room I walked into I was the dumbest guy.  Everyone was smart, accessible and downright amazing.  The talks were fascinating.  I learned more in one session than I did in a year of college (felt that way at least).   If you have a few minutes, listen to this performance by fello FOOcamper Zoe Keating.
As I said before, it is an invite only conference, and I was invited for my organizing of Ignite Boulder.  Getting an invite back is not common, as they have nothing against you, just try to mix it up.
About a month ago I got an email inviting me back.  I wouldn't say I'm that excitable, but I went around the coffeeshop I was at high fiving every stranger in the place.  I would have done a victory lap doing a shirtless airplane if I didn't immediately go to booking a flight.
Getting invited to FOO last year was like being 8 years old and finding out about DisneyLand.  Being invited back was like being told there was a DisneyWorld, and you had a VIP pass.
It worked out really well, as I was already scheduled to be in town to speak at the EventTech conference.
So, that is the backstory, so how was it?
It lived up to expectations and then some.
Last year I went to topics that I thought I associated with (startups! photography! community!).  This year I went to topics that had nothing to do with my passions.  In turn I listened a lot more.
Highlights:
I rode up with Vikas Reddy and Jeffrey Powers of Occipital.  Fresh off their sale of RedLaser to EBAY, I got to spend the entire few hours guessing random numbers to their annoyed 'no' answers.
Friday night had a dinner with everyone in attendance stating their name, where they were from and three 'tags' to describe themselves.  My tags were startups, travel and Ironman.  There were a few hilarious intros, such as 'Dumbest Guy Here' and 'Single White Female.'
We went from introducing ourselves to scheduling the weekend.  I didn't jump on this and the board filled up before I really had time to think about a discussion I wanted to lead.  Listening it was.  A nice switch.  Brady Forrest, one of the originators of Ignite, lead an Ignite, which, content wise, was the best I've ever been to.  Nerdy smart talks in front of a small crowd.  Hugging glaciers to meme culture.  It was amazing.
I stayed up most of the night having conversations on privacy on the web to robot breakdancing. A game of werwolf (a FOO tradition that is hard to explain) then off for a short nap.  The morning had be really, really wanting to go for a run but having an injury just stretching with the runners and send them off.
I attended these sessions:
Food for thought – future of food, DIY? (Lesson learned: we are kinda screwed and the 'good' things we can do as consumers really have drawbacks)
Collective Stream of Consciousness and Industry Disruption: Joe Fernandez & Jolee Lion
More Women & Girls in Tech: How do we encourage? – Leigh Honeywell, Sarah N.
Moving beyond transparency – Clay Johnson
Let's edit each other's wikipedia page! (I thought this would be a snarky bit on narcism in the digital age, but it really was editing of wikipedia pages, which everyone had except for me 🙂 )
Philosophy and Technology – Tim O'Reilly and Damon Horowitz (Just fascinating stuff)
Whither the "female" founder? – Dina Kaplan (One of the best sessions, really honest and open talk)
Storytelling is Everywhere (Damn right it is)
That Sucked: Learning from failure + war stories. (Amazing to hear stories from the biggest companies on the web fell on their face, lots of stories that never were really public)
How to get 1 million views on Youtube! – Tim Shey @nextnew networks (Featured Tim and June Cohen of TED talking about online video)
Cool Tools and cool stuff show and tell – Kevin Kelly (Kevin has been a hero for years, wonderful to hear him talk and chat)
meme culture – Ben Huh and moot (What makes a meme?  What drives a meme and what is the future look like?  danah boyd, Ben Huh and moot from 4chan in attendance, fascinating)
I had my yearly awkward conversation with Michael Arrington:
Me: "Do you have a blog?"
Him: "Nobody likes you anyway."
I have a lot of respect for the work he has done and actually really like these interactions.
The main difference between FOO 2009 and 2010 personally was the decision to form closer relationships with less people.
It was amazing, I was honored to be there.  A huge, huge thank you to the team that puts this on.  It has changed the direction, passion and vigor in which we lead life.