The guys at Soho Haven have been nice enough to lend me a desk to write a post tonight.  Wifi is hard to find on the road and I really would love to do more writing.  So is the life of the 'tech homeless' (those without proper offices they have to be at who travel around the world, Sloane I'm looking at you).
A few weeks ago I got back from a run with horrible, horrible pain on the outside edge of my foot.  I thought I broke it, xrays proved me wrong.  I had a stress fracture or something else making walking a chore.  I had just done a half ironman and was picking up the training for the NYC Marathon.  Pain.  Horrible, horrible pain.
Damn.  Looks like I will have to wait for next year.  I took almost a month off and then last week started to do some pool workouts.  Amazingly, I felt great and didn't really feel my lungs had left me.  My foot felt tight, but massage and stretching everyday was proving to almost fix the problem.
Game on.
I've been on a whirlwind tour of the world, jet lagged, tired and overall a little cranky.  I got to New York via Singapore, Tokyo, LA, and New Orleans.  Not ideal training, and not ideal prep.
Alright, sounds perfect so far, right?
One thing I have learned about myself this year is that I can dig deep and accomplish things with a smile on my face.  Yesterday was no different.  I dug into the reserves and finished my first marathon. It was a blast.  Until mile 18 or so.  Then it was one of the most painful experiences of my life.  There is a saying in distance running that you should 'make friends with pain and you will never be alone again.'
But before that, oh yeah, this is what running is all about.  I started running when I was cut from the high school soccer team.  Those that were picked ahead of my were soon expelled from the team for drinking on the bus after the game.  I was devastated.  It was a chance to play with my brother, who was a Senior on the team.  I joined the cross country team which was the best decision of my high school career.  Great friends, grounding, and so much fun.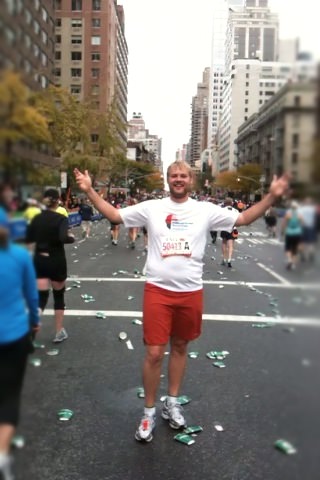 Alright, the race.  26.2 miles, which is a 10/10/10 race.  10 miles, 10 miles, 10 k.  All take the same mental energy.  I've never been in a race with 43,000 people.  The images are just insane.  Crossing bridges, going through the streets.  Just amazing and epic.  We ran in all five burrows of NYC.  Here is me at mile 17, right before pushing it for two miles and then hurting pretty bad for the rest of the race (read: I was an idiot).
Pre race: got to Staten Island 3 hours early.  Froze my ass off for 3 hours.  Started in a line that went past the portajohns.
Mile 1-5: felt great.  Talked to quite a few folks.
Mile 6-10: met up with Steve from Castle Rock, CO.  Ran with him until Mile 17, telling bad jokes the whole way.
Mile 10-15: halfway there!  whoohoooo!  Thought there would be some food on the course, but didn't see any.  Ate a Clif Bar energy gel I found on a bridge.  Hey, never be too proud.
Mile 16-20: holy First Avenue!  I expected more of a thunder, but the whole thing was filled with fans and runners.  Quite an experience.
Mile 21-26.2: bonk!  Ouch!  Every step hurt my feet.  Really struggled, but made it.  Central Park was TOUGH!
Post race: There was a funnel that all finishers had to stand in to get out, about 300 yards long, and nobody was moving.  People were passing out, medics couldn't get to them, people were yelling, trying to get a place to sit and stretch.  Horrific planning.  I can't say how bad it was, almost ruined the whole experience.  People were getting in fights with volunteers.  I wish I could just wipe it from my memory.
I finished.  Got to the subway back to where I was crashing and ate a great, great meal.  I did it.  The 26.2 was on the list of accomplishments.  Time to celebrate!
Thank you to my brother and sister who went on a run with me last Christmas in New Orleans that sparked the idea of a marathon, Rich for getting me out running with him- those snowy midnight runs were in my mind on mile 20, Brad for showing me that even big guys can run the 26.2, Ingrid for showing me the nuances of why getting on your bike and working out can be social and fun, Jeff for all the tips and the bib for the race and all those that sent encouragement.  Thanks to Daily Mile for making me want to track my workouts.
Screw pain, friends will never make you feel alone.
The night of the Marathon I went out for drinks with three friends I have known since I was just seven. Here is myself Mike Kurtz, Chelsea Estep-Armstrong and Chris Mintiens.