We talked a lot about DellHell this weekend, about Jeff Jarvis and his very public displeasure with Dell.
Frontier, now the finger is being wagged on you. My second experience of Frontier Fail.
Very, very quietly, Frontier Airlines, the airline I am a flight away from being in their highest awards program, eliminated standby (the act of taking an earlier flight on the same day if there is room).
Really? You took away something high value to your customers that costs you nothing.
And why? No reason given. And how did they tell all their customers? Through a press release (and a "lets hope this passes over without anyone noticing Friday afternoon press release"). My I be so brash to call that cowardly and downright lame. Sean Menke (CEO of Frontier), I am talking to you. We deserve better. You can do better.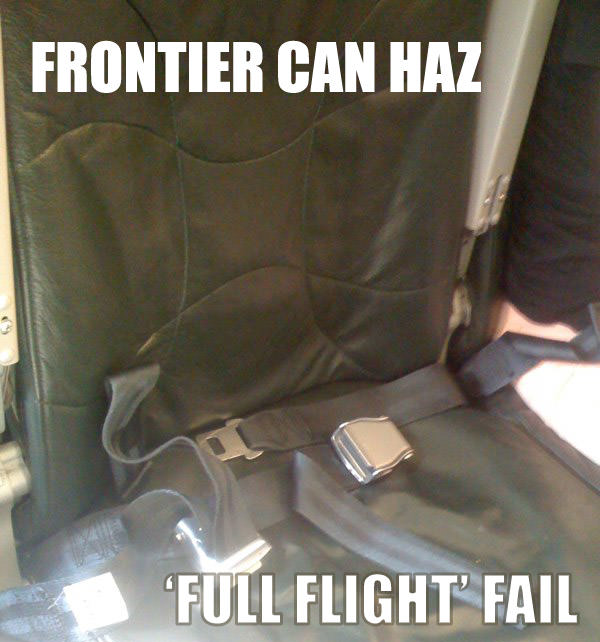 I fly with Frontier 20 times a year. You know my email. You know my phone number. But you waited until I got to the airport, leaving a perfectly good office with great people and a chair with a desk, to sit in the airport, to find out the news that you decided to cut corners.
That is a bad way to treat your customers.
My friend Jeremy was on the flight I was trying to fly standby on, and confirmed an empty seat right by him as they closed the gates. At this same moment, the gate attendant was telling me that every seat was filled, and that even if I wanted to I couldn't get on the flight. Dishonesty is a policy?
But now I am in the airport, waiting for 6 hours for my flight, time to do some work… and on my list? To buy 4 plane tickets.
Who do you think I am going to fly?
**UPDATE** Still here! Used my time to launch Frontier Fail which aggregates twitter searchs for "Frontier Fail," "Frontier :(" and "Frontier Sucks."
**UPDATE 2** Still here! Saw the next flight leave with not near a full cabin. Employees were like robots, no you can not fly standby, for any reason. Found out that if you are Summit, you can, no problem, but they never asked. Just purchaced $1892 worth of airline tickets for future trips, guess who didn't get a $1 of it?