It has almost been 2 months living an ultra minimalist lifestyle. I own 15 things, and have written about them, but have never taken a photo of everything. So yesterday at the El Viajero Hostel in Cartagena De Indas, Colombia I laid out everything I own and am using: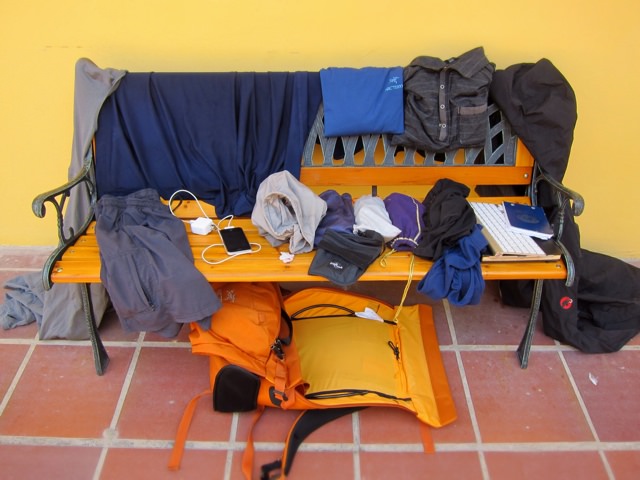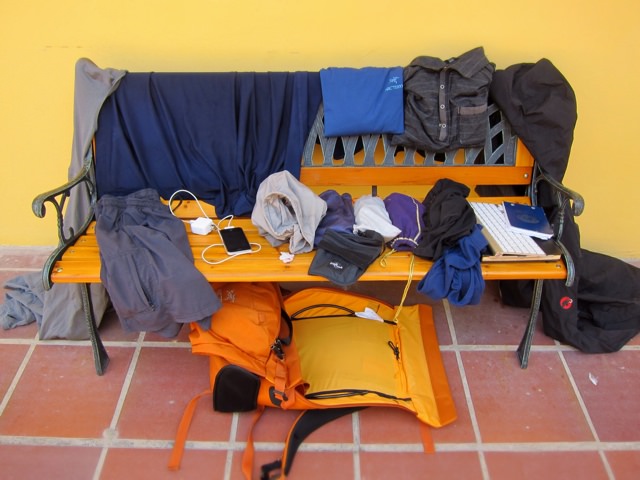 What I'm missing:
running shoes.
What I'm not using:
Jackets (hot here, but the one time I used them, they were really, really needed.
Tips / Tricks:
My arc'teryx Miura 30 pack has been amazing, but doesn't have a lot of pockets. As a quick fix, I found some snowboarding goggle lens bags for my toiletries, cables and cords, and random odds and ends (journal, pen, etc).
The bag is light enough (about 14 pounds with the ipad included) so I can run (really) around any city with no problem. This has saved many trips going to and from the hostel before I take off on a trip or meal.
Local sim cards and an jailbroken iPhone really helps.
Everything has a place. Jackets are packed first. Then pants, then the minibags, then the shirts.
I use the ice axe loops on the pack to dry my towel on travel days.
Other than the issue of really wanting a new color shirt sometimes, I really am not missing much, but experiencing a lot.