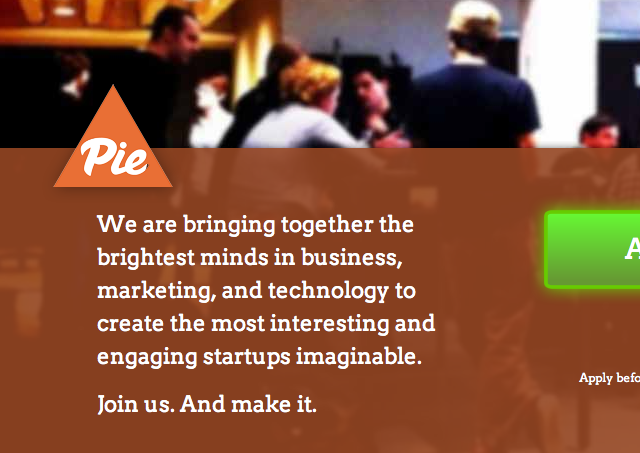 PIE (or Portland Incubator Experiment) is a Oregon based startup accelerator launching its very first class with some very interesting perks. First off, the folks running it are world class. Rick, Renny and a whole community of mentors are equally humble and connected.  I would love to grab a drink or run a company with who is involved.  Portland has the community vibe to it that is just welcoming.  I'm smiling just thinking about what it will look like in a few months.
Some backstory, PIE started just like a typical startup, as a side project. They played a key role in the startup ecosystem over the years, helping out with Ignite, BarCamp and RefreshPDX type events.  They tested it, it worked, and now they are growing up.
What is different about PIE? Location is one thing. You are in the offices of W+K(the first big freelance project I ever had) in downtown Portland.  They have partnerships with Nike, Target and Coca-Cola.  The mentor list includes startup and tech people like Alex Payne, Ward Cunningham, Jeffrey Kalmikoff, Scott Kveton, Marshall Kirkpatrick, David Recordon, Chris DeVore, Jason Grigsby, Raven Zachary and James Keller.
I grew up in Oregon and have a love to all things Portlandia. I'm excited to see some really positive accelerator movement ontop of the kick ass community that Portland has.
You can apply here.